 Hôtel near Grands Boulevards
Hotel Taylor – Your ideal accommodation near the Grands Boulevards in Paris
Welcome to the Hotel Taylor, your Parisian refuge located in the heart of the 10th arrondissement, just a stone's throw from the Grands Boulevards.
Our privileged location allows you to take full advantage of Parisian life while discovering the capital's emblematic tourist and cultural sites.
The advantages of our location near the Grands Boulevards
By staying with us, you benefit from quick and easy access to the main attractions of Paris, such as the Garnier Opera House, the Galeries Lafayette, or the Grevin Museum.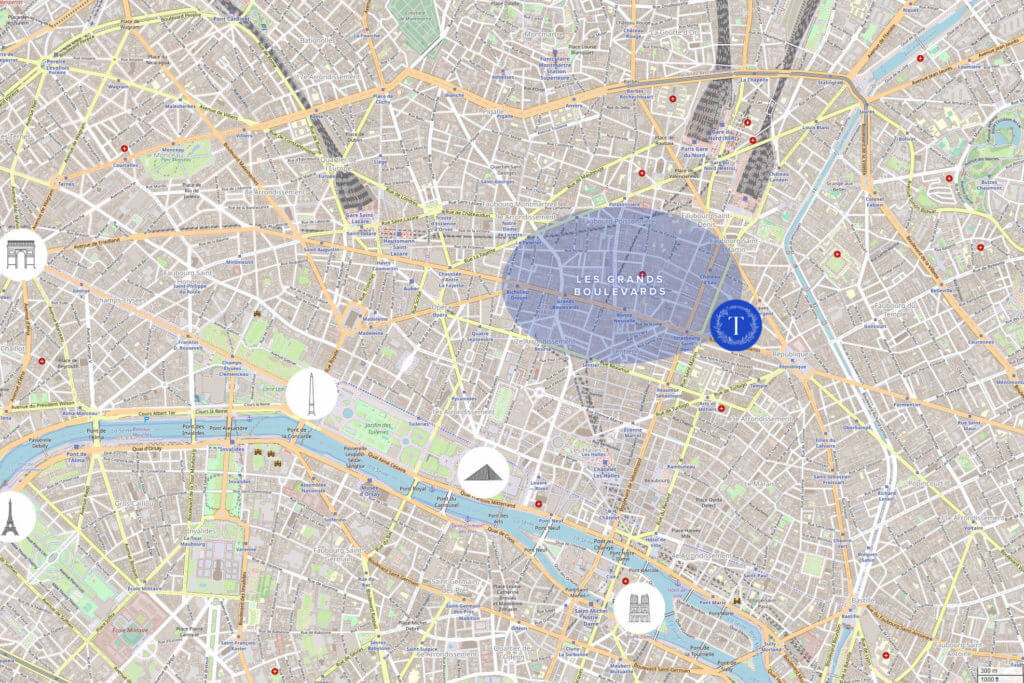 The area is full of shops, restaurants and bars to satisfy all your desires. Moreover, our hotel is very well served by public transportation, which facilitates your movements in the city.
Finally, you will appreciate the typically Parisian atmosphere and the Haussmannian architecture that characterize our neighborhood.
Discover the must-see sites near our hotel
Discover the hidden treasures of the Grands Boulevards, such as theaters, theaters, covered passages and unusual museums.
This lively and entertaining neighborhood is prized by Parisians and visitors alike for its exceptional architecture and fascinating history.
We have prepared an itinerary that you can do on foot to discover the main boulevards and their surroundings within walking distance of our hotel, you will discover.
A few minutes walk from our hotel,
you will discover :
Rue de Cléry
Rue de Réaumur
Palais Brongniart
Passage des Panoramas
Opéra Comique
Boulevard des Italiens
Opéra Garnier
Galeries Lafayette
Boulevard Haussmann
Hôtel Drouot
Passage Verdeau
Folies Bergères
Passage Jouffroy
Musée Grévin
Bouillon Chartier
Le Grand Rex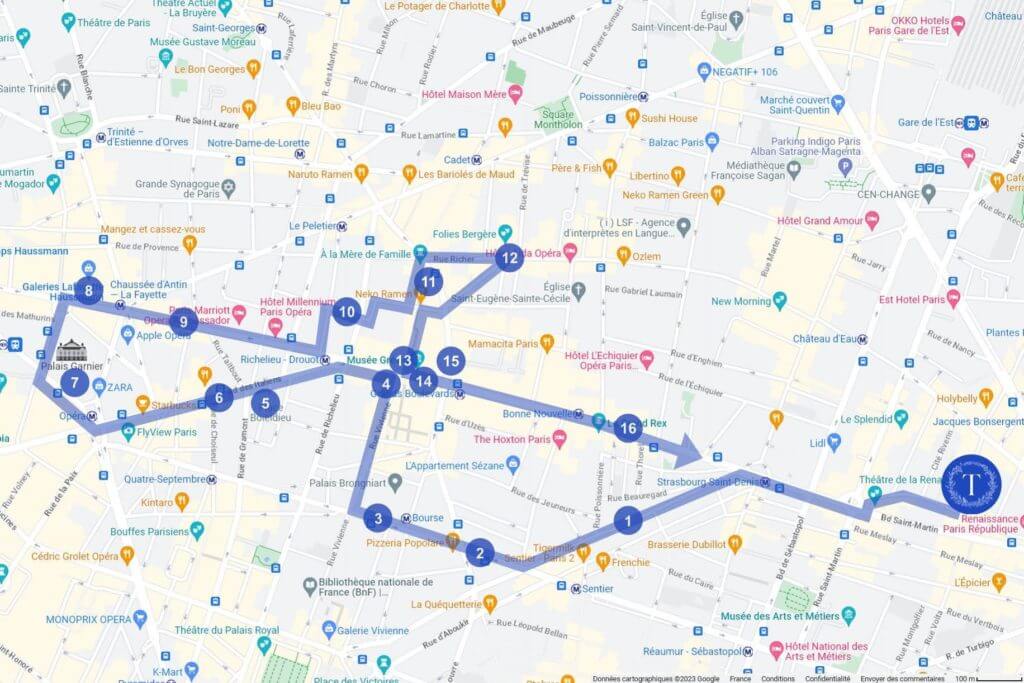 1. Rue de Cléry
Rue de Cléry is located in the 2nd arrondissement of Paris. Its name comes from the hotel de Cléry, mentioned in 1540.
Before, this street was a path along the ditches of the enclosure of Charles V and allowed to move between the doors Montmartre and Saint-Denis. After the demolition of the wall and the filling of the ditches in 1633-1634, the path was transformed into a street. Google Map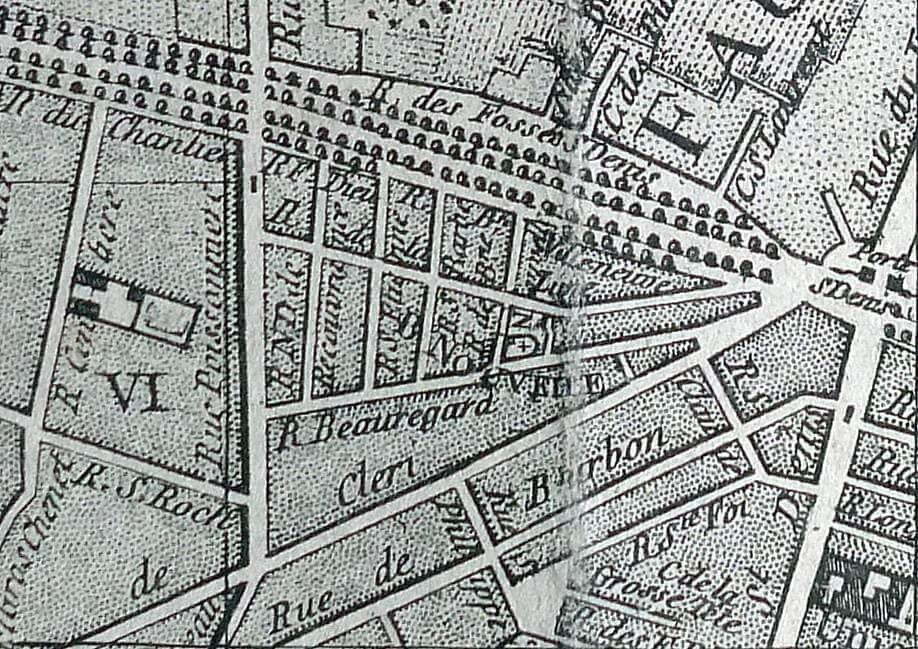 2. Rue de Réaumur
The rue Réaumur is a street located in the 2nd and 3rd arrondissements of Paris. Named after the French physicist and naturalist René-Antoine Ferchault de Réaumur, the street was created during the transformation of Paris under the Second Empire.
It runs parallel to the Grands Boulevards and borrows in part from older streets.
Rue Réaumur has many majestic buildings dating from the end of the 19th century and the beginning of the 20th century, testifying to the architectural exuberance of the period. Google Map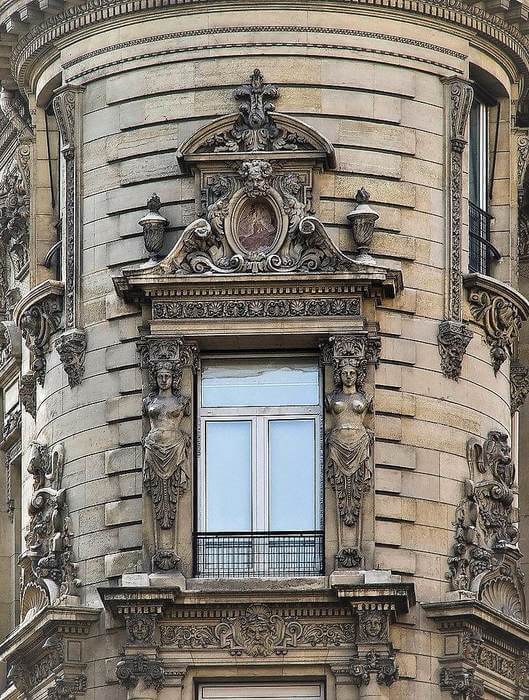 N° 101 : Building located at the intersection of the rue Réaumur and the rue de Cléry. Commercial and residential building in ashlar, with caryatids surrounding the corner window of the third floor.
N° 105 : Beautiful building in ashlar and metal structure, built in 1899
N° 116 : Ashlar building built in 1897. Superb sculptures of atlatls supporting the upper balcony adorn the entrance.
N° 118 : Building in cut stone and metal structure built in 1906. The metallic part is strongly inspired by the Art Nouveau.
N° 119: Building in ashlar erected in 1900 and renovated in 1993, transformed into offices.
N° 121 : Office building in cut stone located at the intersection of the rue Réaumur and the rue Notre-Dame-des-Victoires, built in 1900. Arched windows overlooking the Place de la Bourse.
3. The Palais Brongniart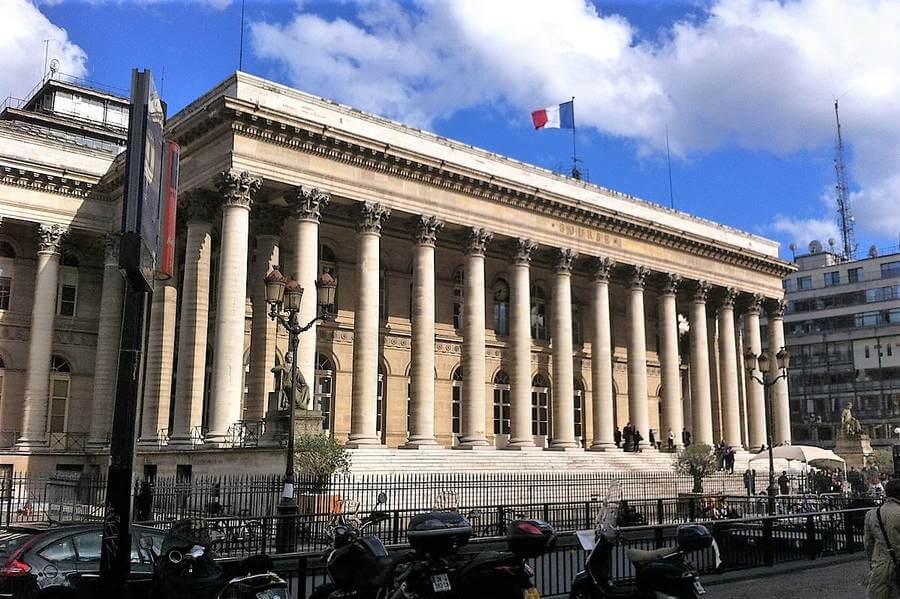 The Palais Brongniart, an emblematic monument of Parisian heritage, was built by the architect Brongniart under the impulse of Napoleon Bonaparte.
In 1808, Napoleon laid the first stone in order to gather all the stock exchange activities in one place.
It was inaugurated in 1826 and hosted the Paris Stock Exchange until 1998. Today, it is a conference and event center focused on innovation. Google Map
4. Passage des Panoramas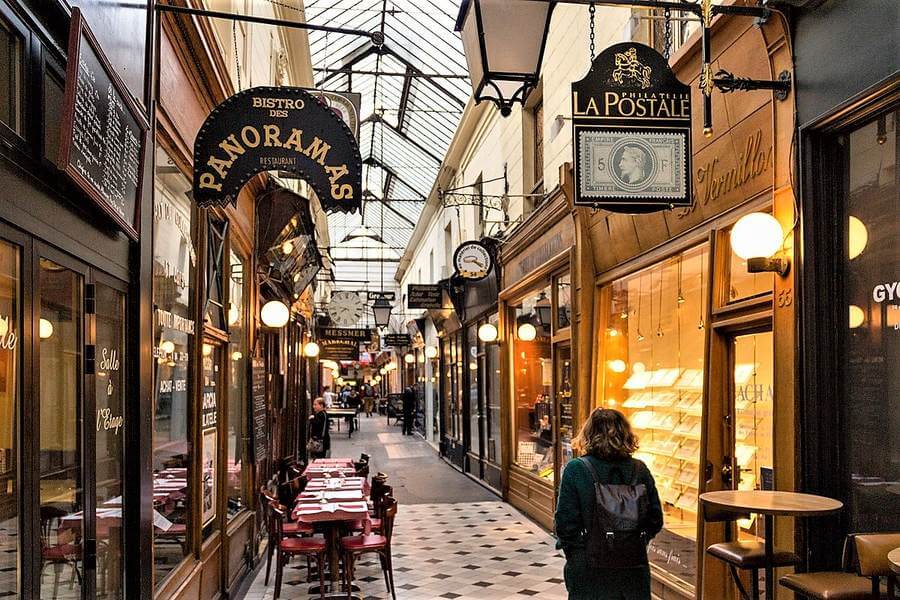 Le passage des Panoramas, construit en 1799, est l'un des premiers passages couverts de Paris.
C'est l'un des premiers passages commerciaux couverts d'Europe.
Classé monument historique en 1974, il conserve son charme d'antan avec ses boutiques et ses artisans d'art sous une magnifique verrière. Google Map
5. The Opéra Comique, a theatrical and musical institution
Discover one of the oldest theatrical and musical institutions in France built under the reign of Louis XIV.
The Opéra Comique of Paris is famous because it is here that internationally recognized works were created, such as Bizet's Carmen and Massenet's Manon.
This institution is renowned for its world-renowned works and is committed to supporting artistic creation and transmission, encouraging young talent and promoting social diversity.
6. Boulevard des Italiens (Boulevard of Italians), a place for walking and entertainment
The Boulevard des Italiens, stretching from Boulevard Montmartre in the east to Boulevard Haussmann, owes its name to the Italian comedians of the 18th century. If you have the opportunity, make a detour through the passage des Princes (Google map), a covered passage dating from 1860.
This historic boulevard is famous for its lively cultural life. In the past, it was home to many prestigious cafés and theaters.
7. The Garnier Opera House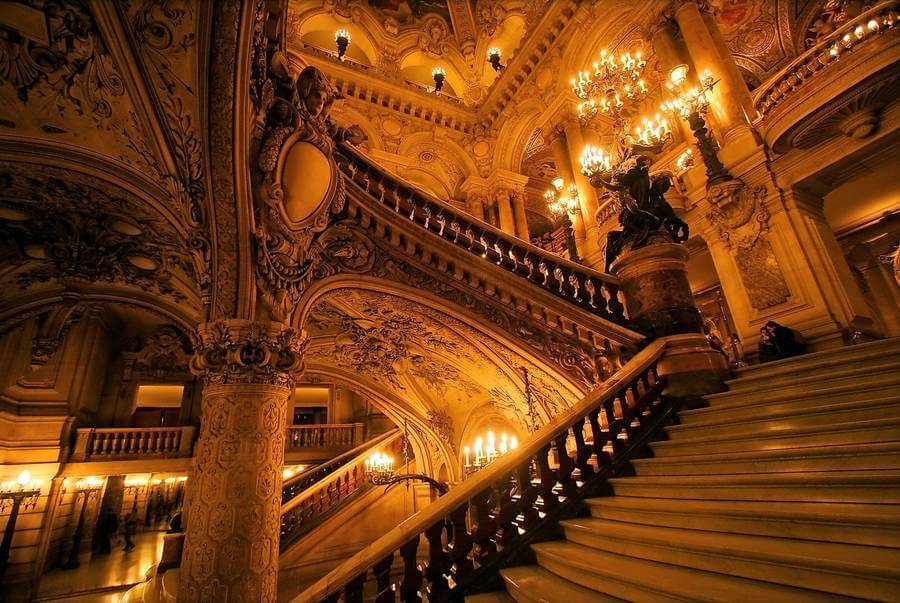 Admire the sumptuous Palais Garnier, designed by Charles Garnier in 1875 at the request of Napoleon III.
Its richly decorated façade will give you a glimpse of the grandiloquence of the interior, dedicated to opera and dance.
Perhaps you will choose to attend a ballet or an opera in this historical place. Google Map
8. Galeries Lafayette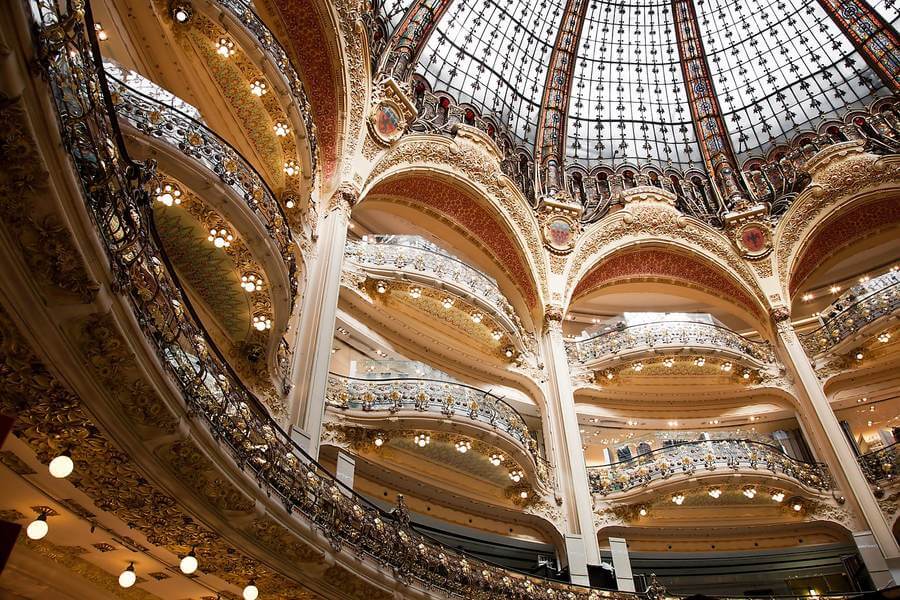 Galeries Lafayette is a French department store chain founded in the 19th century in Paris.
They are famous for their architecture and their wide range of products, especially in fashion.
Shop at this iconic department store and gaze up at the Art Nouveau dome that overlooks the premises. Google Map
9. Boulevard Haussmann
Boulevard Haussmann is an elegant Parisian boulevard stretching for 2 km between Avenue de Friedland and Boulevard Montmartre.
It runs through the 8th and 9th arrondissements, with vibrant shopping areas, bank headquarters and tourist sites such as the Garnier Opera. The Jacquemart-André Museum is located in a quieter part of the boulevard. Google Map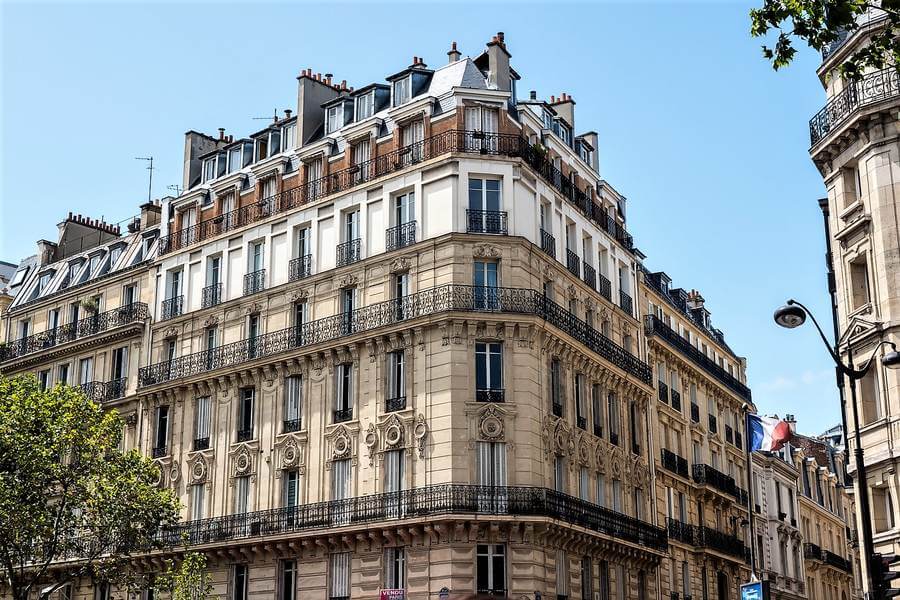 Boulevard Haussmann is named after Baron Georges Eugène Haussmann, who led the transformation of Paris during the Second Empire.
This road was conceived as a major traffic axis linking the Grands Boulevards. The boulevard was not completed until 1926, well after Haussmann's death.
10. The Hôtel Drouot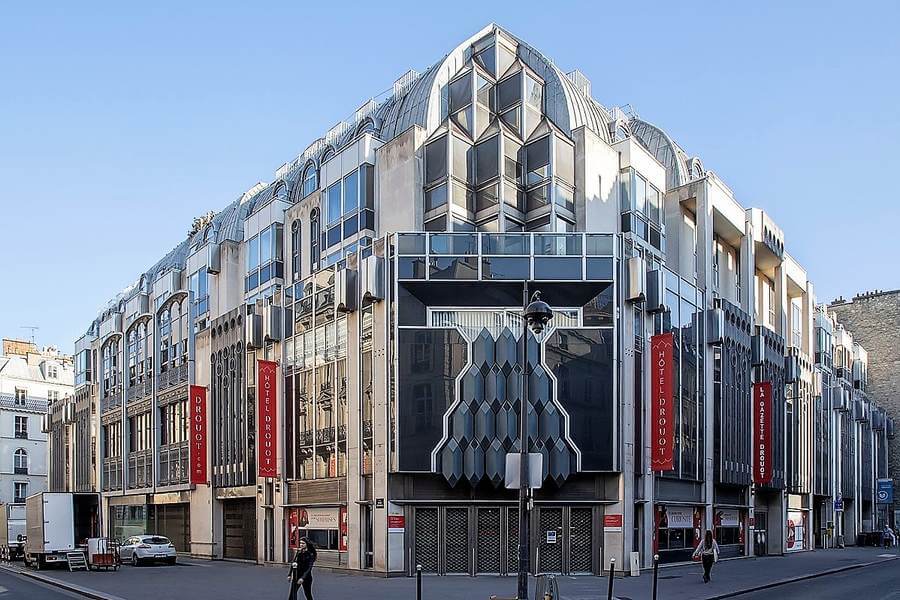 The Hôtel Drouot is a famous auction house located in Paris.
Founded in 1852, it offers a unique place for art lovers and collectors to buy and sell art and collectibles.
With its many auctioneers, Hôtel Drouot organizes a variety of sales, attracting an international audience. Google Map
11. Passage Verdeau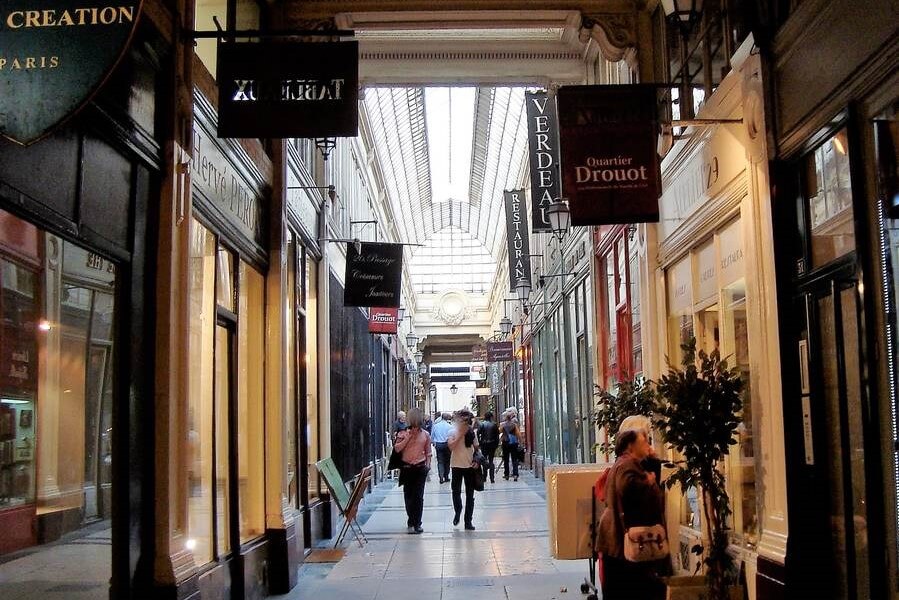 The Passage Verdeau, built in 1847, is a charming Parisian covered passage located in the Grands Boulevards district.
It is connected to the Panoramas and Jouffroy passages, offering a unique place to stroll around.
The passage houses antique shops and unusual boutiques under a luminous glass roof. Google Map
12. The Folies Bergères
The Folies Bergère is a famous Parisian music hall located in the 9th district. Founded in 1869, this iconic venue has hosted revue and cabaret shows and famous artists. With its majestic decor and rich history, the Folies Bergère continues to be a key venue in the cultural life of Paris. Google Map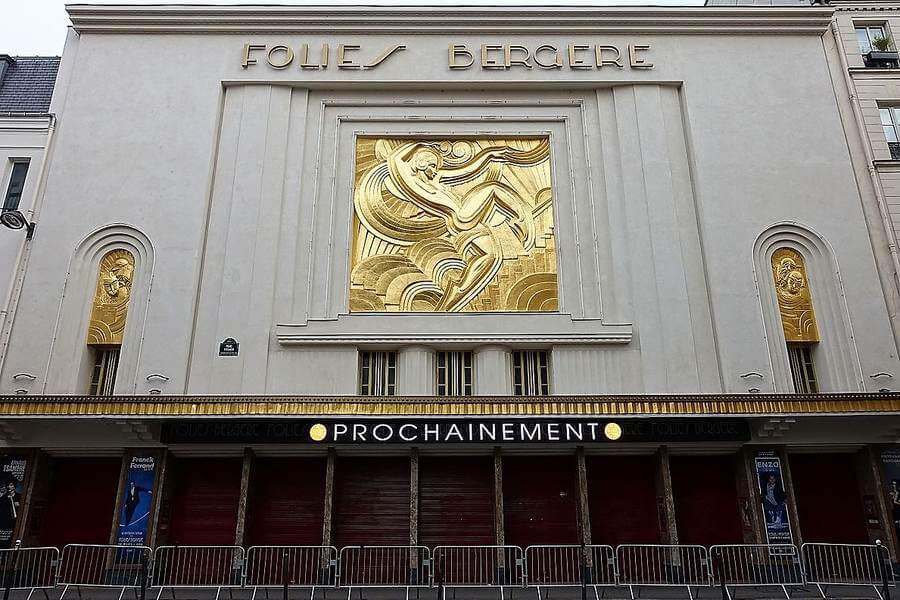 13. The passage Jouffroy
The Passage Jouffroy, built in 1836, is a busy and charming covered passageway located on the main boulevards of Paris. It is known for its iron and glass architecture, its ogival glass roof and its marble paving.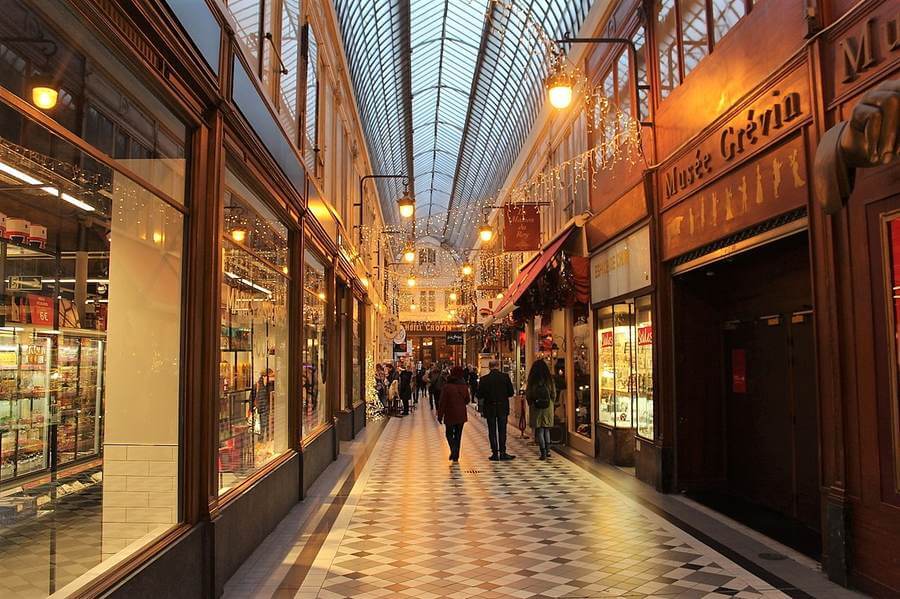 The passage is home to various interesting establishments, such as the Grévin Museum, the Salon des Miroirs and the Hotel Chopin. There are also original stores offering antique objects, rare books and paper specialties. Gourmets can stop by the Valentin tea room. Another entrance is at 9 rue de la Grange-Batelière. Google Map
14. Le musée Grévin
The Grévin museum is a famous wax museum located in Paris and founded in 1882. It features more than 200 wax figures representing celebrities from around the world, historical, political, artistic and sporting figures.
The museum offers an immersive and entertaining experience, allowing visitors to get up close and personal with their idols and take pictures with them. In addition to the wax statues, the Grévin Museum offers spectacular sets and temporary exhibitions. Located near the Grands Boulevards, it is easily accessible and a must-see for tourists and history and culture lovers. Google Map
15. Le Bouillon Chartier, a Parisian institution
Le Bouillon Chartier is a historical restaurant located in the 9th district of Paris, at 7 rue du Faubourg Montmartre.
Founded in 1896, it is renowned for its traditional French cuisine at affordable prices and its authentic setting.
The establishment is listed as a Monument Historique and is distinguished by its Belle Époque décor, with large red velvet banquettes, mirrors and period chandeliers.
The menu offers typical French dishes such as onion soup, beef bourguignon and chocolate mousse.
Le Bouillon Chartier is a must for those who want to discover the atmosphere of a true Parisian bistro of yesteryear. Google Map
Boulevard de Montmartre on the way back to the hotel
The Boulevard de Montmartre is a famous Parisian artery located in the 9th district of the capital. 730 meters long (0.45miles), it is part of the Grands Boulevards, which are a set of wide Parisian avenues built by Baron Haussmann in the 19th century. The boulevard de Montmartre connects the place de l'Opéra to the boulevard des Italiens and is lined with many shops, theaters and restaurants.
This boulevard is appreciated for its lively atmosphere, its architectural diversity and its rich cultural heritage. It is also famous for being home to the Variety Theater, an iconic Parisian entertainment venue, as well as the Grévin Museum and its wax statues. Boulevard de Montmartre is a must-see for tourists and Parisians alike, who enjoy strolling along its sidewalks and taking advantage of its cultural and gastronomic offerings. Google Map
Boulevard Poissonnière on the way back to the hotel
Boulevard Poissonnière is a historical boulevard located in the 9th arrondissement of Paris, part of the Grands Boulevards.
It is 430 meters long (0.27miles) and connects the boulevard de Bonne-Nouvelle to the boulevard Montmartre. Known for its Haussmannian buildings and its various shops, Boulevard Poissonnière offers a lively and pleasant atmosphere.
Its central location and its proximity to numerous theaters, cinemas and restaurants make it a popular place for Parisians and tourists alike. Google Map
16. The Grand Rex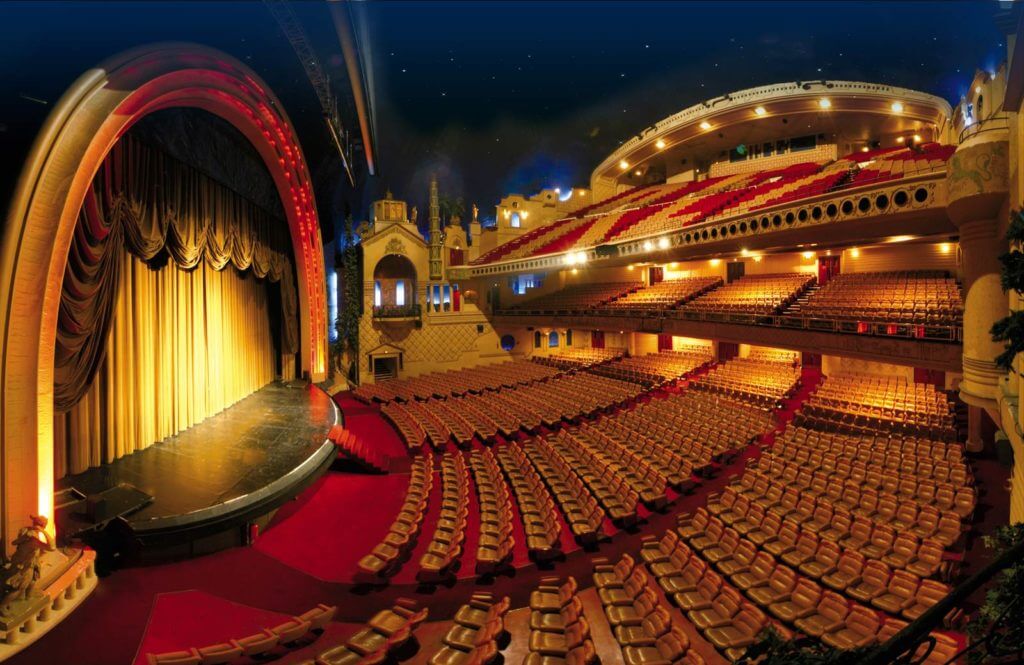 The Grand Rex is an emblematic cinema and showroom located at 1 boulevard Poissonnière, in the 2nd district of Paris. Opened in 1932, it is famous for its Art Deco façade and its main room decorated with glittering stars on the ceiling. With a capacity of 2,700 spectators, it is the largest cinema in Europe. The Grand Rex also hosts concerts and special events, reinforcing its status as one of the most important cultural venues in Paris. Google Map
How to get to our hotel from the main stations and airports in Paris
Whether you arrive by train or by plane, reaching our hotel is a breeze:
From the Gare du Nord: Take metro line 4 towards "Mairie de Montrouge" and get off at "Strasbourg – Saint-Denis". Then walk 5 minutes to our hotel.
From the Gare de l'Est : About ten minutes away by foot or public transport
From Charles de Gaulle airport: Take the RER B in the direction of "Robinson" or "Massy-Palaiseau" to "Gare du Nord", then follow the instructions above
Hotel Taylor, Paris 10e – Book your stay near the Grand Boulevards
Each room is equipped with all the necessary comforts to make your stay enjoyable (see our Room pages for more details)
We are proud to see our guests return regularly to the hotel when they come to Paris.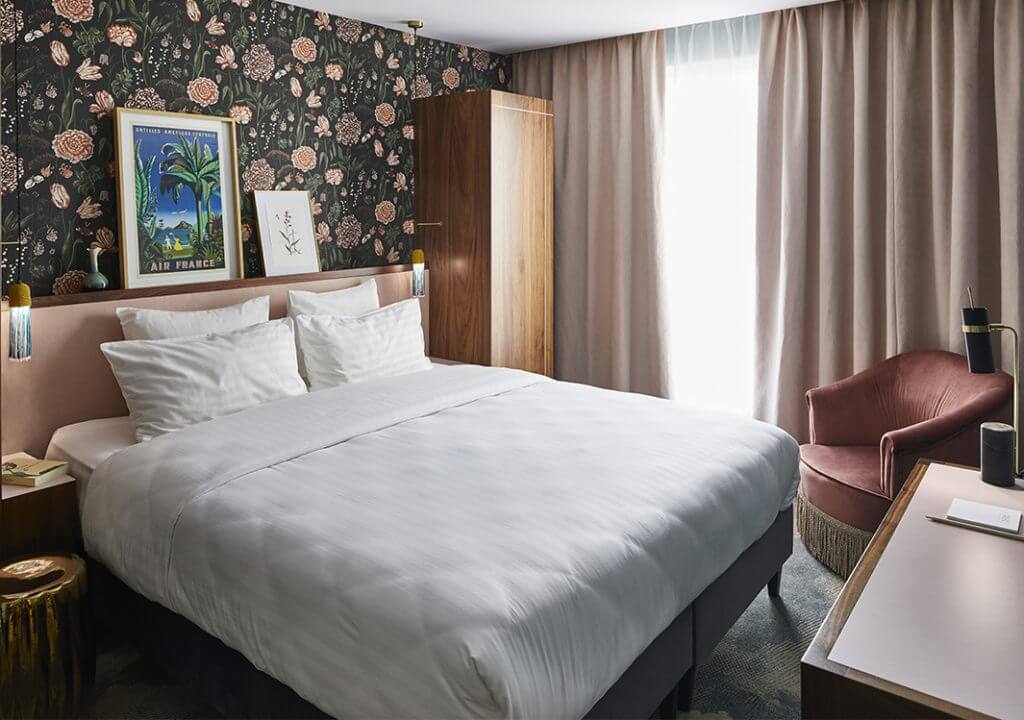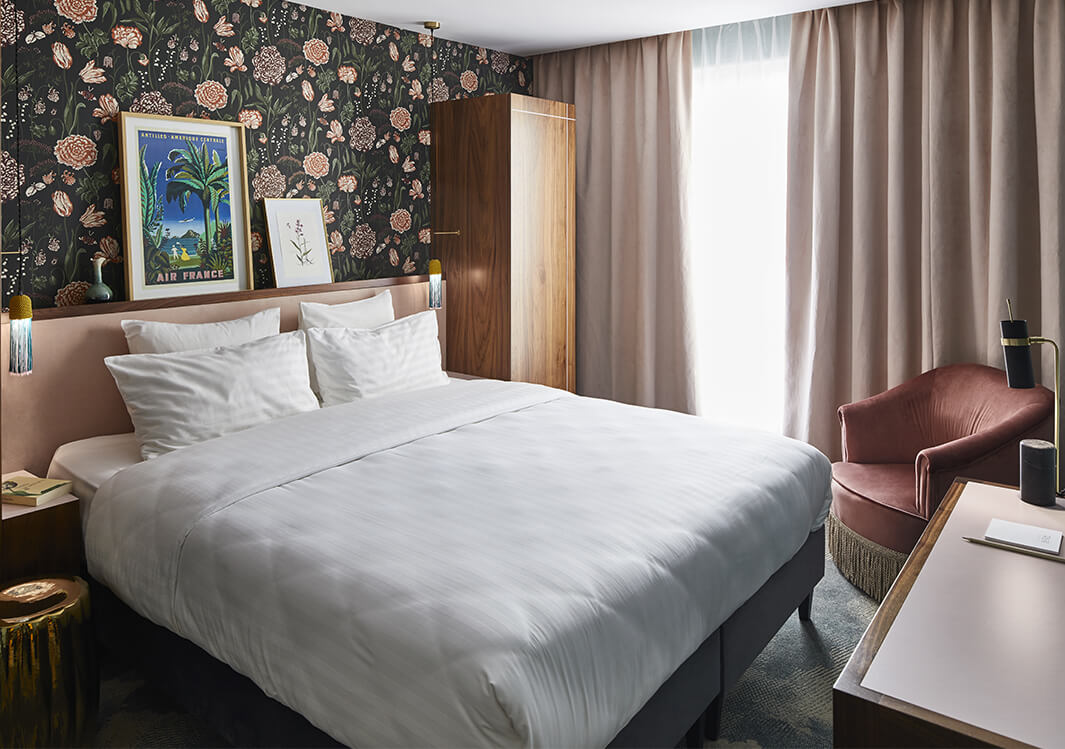 Their testimonials will give you an idea of what to expect during your stay in our establishment. Here are some of the customer reviews we have received:
Excellent value for money
Ideal location, close to public transportation, shops, and tourist attractions
Easy access to all areas of the city
Friendly, pleasant, smiling and helpful staff
Comfortable, well-equipped and nicely decorated rooms
Good soundproofing of the rooms
Cleanliness of the rooms and common areas
Peace and quiet, despite the central location of the hotel
Beautiful interior decoration, with a warm atmosphere
Copious, varied and quality breakfast, with options for all tastes
Comfortable and high quality bedding
Free and efficient Wifi
Popular in-room extras, such as a minibar and fluffy towels
Stays suitable for different types of travelers (families, couples, business travelers, etc.)
We hope that the testimonials of our guests and the information presented on our website have inspired you to come and discover our hotel in Paris.
Do not hesitate to contact us for more information or to make a reservation.
Booking directly on our website often allows to get the best offer. See you soon at the Hotel Taylor